Welcome to NEW AGE MARTIAL ARTS - HOLISTIC APPROACH - CrossFitness Circuit, Combat, Nutrition, Healing, Spirituality
Call 09820496752 or 09969022229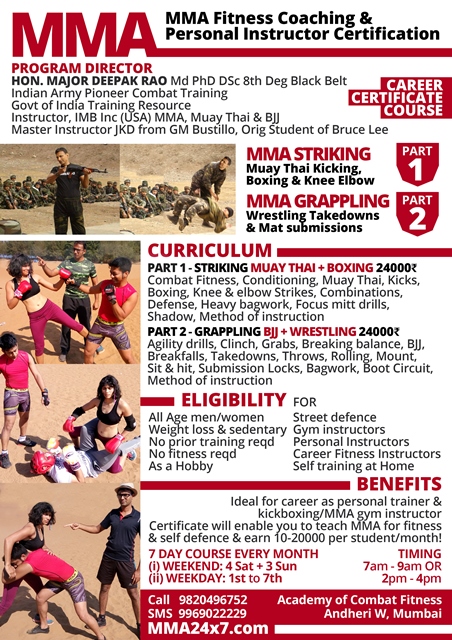 "Prepare for the Great Battle! The Arena is Life. the Enemy is Adversity & Obstacles. The Weapons are the Mind, Body & Spirit. The Victory is Health, Peace & Prosperity. Allow me to teach you this subtle Art of War. It will need a little time, energy & commitment. But I promise you, it shall change your life forever" DR


FEATURES
1. India first fully dedicated & Specialised Combat Academy with International Certifications aimed at the adult working man & woman.
2. All New age 21st C Martial Arts under a modern roof-The Academy -No more school halls, garage areas & gym spaces. We select our students-No training along with street hooligans & children. Learn at your own pace with educated & cultured students.
3. Unique Holistic Approach of Mind, Body & Spirit. Learn from a Team of professional Martial Art Instructors, Dieticians, Doctors, Physiotherapists & Philosophers who shall tailor make the program to cater to individual needs of Health, Fitness, Combat & Disease Management.
4. WE ARE HOLISTIC meant for EVERY ONE!
ACF or ACADEMY OF COMBAT FITNESS is our center making the self defense Martial arts skills available to civilians with teaching faculty of ex army officers and instructors training Indian Forces.
We cater to your interest on Mixed Martial Arts / JKD / Muay Thai / Kickboxing / Tai Chi / Krav Maga / Kung Fu / BJJ / Other martial arts
5. Our Academy of Combat Fitness is the first fully dedicated Combat Academy in India. Here training is a HOLISTIC approach with emphasis on
a) COMBAT- Scienfitic Safe Fun Martial art tailormade to age, existing level of fitness & time
b) PHYSICAL-U don't need prior fitness, we build it gradually via our specially prescribed home training schedules
c) MENTAL- training for Confidence, focus, courage.
d) SPIRITUAL-Zen Meditation, Taoism & Samurai philosophy to build an approach to day to day problems of living
e) HEALTH - Our doctors, physiotherapists monitor & rehabilitate ur backaches, BP, joint problems and tailormake your program to suit your age, fitness and personalized needs
f) NATUROPATHY-healing diets and alternative medicine methods of healing to control BP, Blood sugar, Joint problems, Backaches, Depression and Chronic illness. Specific Diets and Nutrition to help speedy healing.
g) WEIGHT LOSS - our Dieticians initiate weight loss & Home Body shaping programs.
6. DO U WANT TO LEARN FROM THE BEST?
For learning good martial arts, in the words of Bruce Lee "It is better to spend 10 years searching for a good Teacher than spend 1 year learning from the wrong one!"
7. We are the ONLY authentic Jeet Kune Do (JKD)Academy in Asia, (JKD is Bruce Lees holistic art – Physical, Mental, Martial & Spiritual Art) in ASIA. JKD is in summary "The art of life- achieving goals, solving problems and developing Bruce lees combat attitude in arena of life.
We are the only academy in Mumbai teaching newer modern day exotic arts under one roof like Muay Thai, Brazilian Jiu Jutsu, MMA etc.
We are the ONLY authorized Military Martial Arts Training Center in India which trains Indian Special Forces in battle field combat. We have 3000 blackbelts from Indian forces trained by us.
8. AWARDS
We have received US Presidents Gold Award, World Peace Award, Chief of Army Staff Citations, Home ministers Commendation, Chief Ministers Appreciation & Queen of UK also has expressed her interest in our work in combat training. All the forces that participated in the Taj terror Attack were trained in combat related subjects by us a few years ago under invitation of the Force Chiefs. There is no organization which is competition to us, in the field of Combat Training.
9. ITS FAR AWAY FROM HOME?
We have centers in Charni Road, Andheri West(HQ) and Kandivali East. Distance is your first opponent. "Travelling to the place of martial arts is like travelling to the place of worship". You will soon understand why students come all the way not only from Panvel & Pune, but also from Bangalore & Himachal, London & Australia exclusively to train with us. We have plenty of learning options for those outside Mumbai. We have a special facility for long distance travelers & busy executives coming from farway corners of Bombay. They are welcome to arrive on a single day (weekend – sat & sun) anytime from 8am to 12 noon and train for a couple of hours learning skills at a very easy pace. They then go back with a lesson plan for the week to be practiced at home once or twice a week for about 30 mins per day. We also allow flexibility – say if you miss one weekend, you can make up for it another day. Such flexibility helps those who travel a lot or who come from far off places. There is no substitute for training at the Academy – Equipment, Instructors, Opponents for mock practice of combat, mats, music, cheerful and fun atmosphere, we have it all, allowing for total relaxation.
10. COOL n FUN AMBIENCE!
In our class, you will not find uneducated street folk. You will find doctors, engineers, software consultants, working women, movie stars, corporates & industrialists along with working men from middle economy backgrounds.
11. SELECT FROM 60 COURSES
International Certificates awarded,
Basic courses start at just 1 month, Intermediate, Advanced courses stretch from 1yr onwards. Instructor Crash Courses in various arts. We also offer Exotic courses like Sword Taichi, Combat Taichi, Qi Gong, Traditional Chinese Medicine for disease cure with young doctor instructors, Martial Arts & Self defense crash courses, Thai Kick boxing, Mixed Martial Arts, BJJ, Aikido & Jeet Kune Do. We also help u to do research for consideration of PhD in Alternative Med for one year, part time.
12. COME VISIT US!
It is imperative that we meet to discuss your needs & options. Some do martial arts for fitness & fun. Others for developing inner qualities of will power, concentration & to find peace. And of course there are others who do it to beat the shit out of the guy who threatens them! We will help you to choose a program of your need as well as offer you the training days - weekdays or weekends & the desired timing to enable u to coordinate with ur office, college or work schedules. Many come to us before or after their work directly from their work premises!
FEEL FREE TO CALL ME!
So call me, Dr. Samira, on my cell 09820496752 OR 09969022229 & we can talk about your martial arts journey. The second step is to fix up a meet to visit the Academy where you will get a chance to see the various training programs, either on s sat or a sun. After seeing the programs you can go home and decide which program to enroll in. Since there is a sizable number of visitors, you will need to fix up a meeting time with me. I am always there to help start your journey or answer your questions.